LoL Smurfs & Services
EasyElo.Com offers variety of services from best world wide providers! We offer anything you can possibly imagine when it comes to League Of Legends. If theres something missing, which you are in need of, have any questions or would like to negotiate a price skype us at crimsologia1 or use our on site chat.
Accounts
We offer all kind of accounts, for any server. Whether you need a botted or 2nd hand account, something with particular content or ranking. EasyElo.Com has it all! Skype us and let us know what you need! When it comes to accounts, we put top priority on safety. Head to our blog section, to read about safe smurfing.
We currently have following accounts in offer:
ALL PRICES NEGOTIABLE
Update: 02.07.2018
Need anything else? Skype us, we have anything you could possibly need.
Some of best choises (Basic champs, runes and fine amount of IP) ->
EUW150€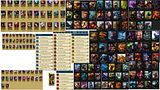 EUNE 60€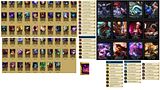 More accounts:
EUW Low Tier: https://imgur.com/a/94Nc7jg
EUW Mid Tier: https://imgur.com/a/B2nfBp6
EUW High Tier: https://imgur.com/a/x1JzeWm
NA: https://imgur.com/a/zhzSieN
Once you have choosen something, you can do the payment with the button below:
Champion Mastery
Here you can purchase Champion Master Boosting. Getting high champion mastery level will get you awesome rewards like: Mastery Badge Emote, Loading Screen Border, Announcement Banner. Choose your champion, current level and desired level and one of our professional players, will do as many wins as its needed to achieve it.
Normal Draft Pick Wins
You can use normal draft pick wins for restrictions, IP farming, normal MMR boosting or account leveling. We will get a professional player, to play an estimate of 10 wins a day!
Chat Restriction Games
These are solely to get rid of chat restriction or leaver ban. Players who are ranked or chat restricted at the end of the season will NOT be eligible to earn ranked end of the season rewards. You can read more about it here. We can do up to 40 of these a day!
Leveling
We offer bot free leveling. One of our professional players will play an estimate 10 wins a day. The account has to have per win and time xp boosts running or have enough RP for a purchase. It takes about a week for leveing from 0 to 30, and substantially less if you already have some expreience gained on your account. Based on this table. Choose how many % you're missing, and than you can checkout on form below:
Coaching
Our boosting team, is made of best soloq climbers. They eat division like beasts, carrying your account up to the top with ease. Their strength comes from knowledge they accumulate over years of playing.
Coaching lessons offer following:
Optimization of Runes and Masteries,
In game evaluation of mechanics,
Tips and tricks for champions
How to improve your experience / division in Solo Q
Team Lessons
Setups, what to use when and why
In game evaluation of problems
Advices for each Lane
& More!
Checkout some of our youtube videos, for a sneak peak of what we have to offer
---
Back to Top